1% for Tzedaka Program
The American Guild of Jewish Art members who display this logo donate at least 1% of their profits to tzedaka, linking their Judaica to "Tikkun Olam" - repairing our world. Each artist selects which charitable causes to support and contributes to them directly.
The coin in the logo is a Jewish shekel, minted around 66 CE during the first Jewish war against Rome. It reminds us of the lines from Exodus (30:12-13) about giving a half shekel: "When you take the census of the people of Israel according to their number, then shall they give every man a ransom for his soul to the Lord, when you count them; that there should be no plague among them, when you count them: This they shall give, every one who passes among those who are counted, half a shekel according to the shekel of the sanctuary; a shekel is twenty gerahs; a half shekel shall be the offering of the Lord:"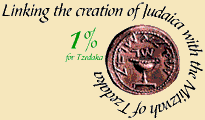 The Jerusalem House of Quality, 12 Hebron Road, 93542 Jerusalem, Israel Tel: 972-2-6735242 Fax: 972-2-9922555